June 2021
SENIOR EXPLORATION GEOLOGIST
GERALDTON, ONTARIO
---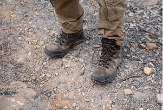 Tombill is currently seeking a Senior Exploration Geologist to join its Exploration team near Geraldton, Ontario. This is initially a contract position, extendable subject to exploration success. The work schedule will be as required by the job, but is nominally a 14-day in, 14-day out rotation. Salary will be commensurate with experience and qualification.
The Senior Exploration Geologist will be responsible assisting the Exploration Manager in the day-to-day site operations of the TMGEP.
This person will look after the Exploration Program when the Exploration Manager is off on rotation. This includes the management of a multi-faceted exploration program that will generate new resources. Working with the Exploration Manager, this person will help implement and direct the short and long-term exploration target plans of Tombill Mines and ensure that proper methodologies and procedures are followed in all its programs.
Responsibilities:
Assist the Exploration Manager in the management, organizational and administrative aspects of the exploration program including:
major logistical organization (e.g. location, operation and manning of drill rigs).
on time procurement of required materials and equipment.
operational budgeting and cost management in the exploration program.
administrative procedures, standards and controls.
productivity, efficiency and cost effectiveness within the program.
Provide high level technical and geological expertise to assist the Exploration Manager in keeping the exploration program on track.
Aid in planning drill hole locations and expected deviations for drill holes to effectively test the mineralization and exploration targets. This will include the planning and coordination of the detailed logistics of the drill programs to ensure a cost-effective work schedule.
Supervise all geological work (core logging, mapping, sample collection, QAQC, Surface Exploration, channel sampling) to ensure CIM guidelines for best practice are followed for exploration.
This email address is being protected from spambots. You need JavaScript enabled to view it.