June 2021
JUNIOR EXPLORATION GEOLOGIST
GERALDTON, ONTARIO
---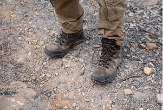 Tombill is currently seeking a Junior Exploration Geologist to join its Exploration team near Geraldton, Ontario. This is initially a contract position, extendable subject to exploration success. The work schedule will be as required by the job, but is nominally a 14-day in, 14-day out rotation. Salary will be commensurate with experience and qualification.
The Junior Exploration Geologist will be responsible for everyday activities, such as logging core, mapping, assisting the Exploration Manager and Senior Geologist in the day-to-day site operations of the TMGEP. This person will contribute to the successful execution of Tombill Mines' short and long-term exploration goals. In addition to ensuring that proper methodologies and procedures are followed at all times.
Responsibilities:
Core Logging (Rock type, textures, alterations, structures, veining, sampling, etc).
Ability to log oriented core is desired but not required.
Core teching, knowledge of RQD is desired but not required
Surveying of Drill hole collar locations and aligning of drilling direction. Monitoring of drill hole deviations and assisting in shut-down decisions.
Perform all geological work (core logging, mapping, sample collection, QAQC, Surface Exploration, channel sampling) and following CIM guidelines for best practice.
Record and collect high quality, detailed data along with rock and soil samples for geochemical analysis. Utilize scientific principles and knowledge during sample collection and geologic discussion
Perform independent, hands-on field work which includes the use of a compass, maps, and handheld Garmin GPS.
Strong ability with geological modelling software and core logging software (Gemcom, Datamine, Leapfrog, Target, ArcGis, Map Info, Geospark or other core logging program etc.) and data management skills. Complete daily data entry and quality control checks.
This email address is being protected from spambots. You need JavaScript enabled to view it.